Ecco Gravel Stabilization Grids
€16.50
Description
WHY GRAVEL STABILIZATION?   
Gravel surfacing is very popular, but there is one major drawback. Gravel may start to shift when frequently trodden or driven upon. This may severely degrade the gravel surface's comfort level.
PAST SOLUTION
You may opt for gravel with a multitude of fine particles. This will allow the gravel to stay in place (e.g. a gravel type of 0-5 mm or 0-15 mm). However, the greater the number of fine particles, the lower the water permeability. This creates puddles, potholes and rutting, and causes the fine particles to stick to one's shoes…
THE SOLUTION: ECCOgravel® GRAVEL SHEETS
Use gravel without fine particles up to 15mm chip size. The gravel is held in place by the gravel sheets, and the grids are covered with a top layer of gravel.
RESULTS
You end up with a functional and stable gravel surface with a sleek and modern appearance which is perfectly permeable. The ECCOgravel® gravel surfacing system has a very high compressive strength, both in unfilled and filled state. With gravel surfacing, one should always ensure that no gravel gets under the gravel sheets. ECCOgravel® uses the most sophisticated bonding techniques, and the polyester geotextile is bonded so strongly that the risk is reduced to zero.
ECCOgravel® gravel sheets – also called gravel plates – have a broad field of application: have a look at our gravel sheets for terraces, walkways and garden paths, or for driveways and parking areas. An ECCOgravel® gravel sheet is also ideally suited for roof terraces, fire accesses, sports areas, etc.
Benefits of Ecco Gravel Grids:
Manufactured from HDPE
UV Resistant
Frost Resistant
High Pressure resistance
High Torque resistance
High strength Geotextile weed membrane incorporated
FROST-RESISTANT HDPE GRAVEL SHEETS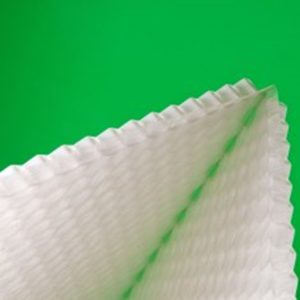 ECCOgravel sheets are frost-resistant sheets produced from HDPE (High-Density Polyethylene). Gravel surfacing produced from HDPE (High-Density Polyethylene) remains flexible at all times, even at freezing temperatures to – 20°C. Gravel grids produced from different materials would break under cold temperatures.
HIGH PRESSURE RESISTANCE
ECCOgravel sheets have a pressure resistance when filled of up to 400 tonnes/m². Unfilled, the plates have a pressure resistance of 90 tonnes/m². The pressure resistance is important because it indicates the maximum extent to which the plate can be loaded. Thanks to its high pressure resistance, the ECCOgravel sheet is ideally suited for constructing your driveway, parking area, fire accesses, etc.
HIGH TORQUE RESISTANCE
Pressure resistance is not all that matters in a gravel plate, torque resistance is also very important. When you are driving a car over gravel sheets, you are not only exerting pressure, but your manoeuvring (twisting and turning) also exerts torque forces on the substrate. Here too, the importance of HDPE (High-Density Polyethylene) comes into play: thanks to this composition, ECCOgravel plates remain flexible, which means they will not break or deform over time. Moreover, all ECCOgravel sheets boast synthetic reinforcements between the honeycombs in order to enhance torque resistance.
HIGH-STRENGTH GEOTEXTILE
A great deal of attention is given not only to the composition of the plate itself; the anti-rooting mat (also called geotextile) is also selected with great care. This geotextile ensures that the pebbles do not end up underneath the plate. The geotextile for ECCOgravel grids is 100% bonded, preventing this issue from occurring here. In addition, the geotextile is manufactured from polyester, which is a high-strength material. Not only is the geotextile exceedingly strong, but it also has an open structure. This ensures that rainwater permeates into the substrate quickly, allowing your gravel surface to remain clean. Lastly, plants and grasses also have a harder time attaching, preventing the growth of weeds.
Ecco Gravel Grids are sold in units of 1 sheet which measures 1.92 square metres @ €34.00 per sheet
The price quoted is price per square metre