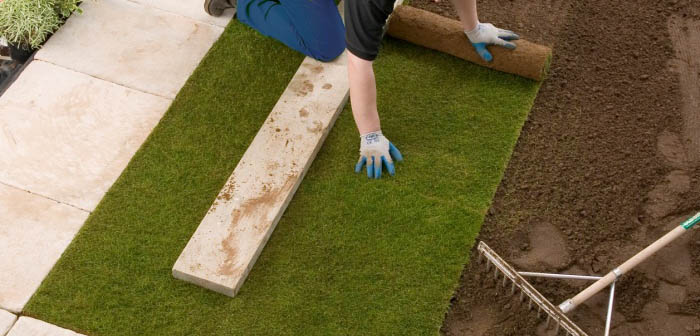 Laying a new lawn using roll out turf is simple and provides an instant result. Lawn turf will establish itself quickly on warm and moist soil which makes Autumn the perfect time to lay a new lawn.
How to prepare the ground:
Existing turf should be removed and the ground rotovated.  This can be done using a sod stripper and rotovator. Gently dig the entire area where grass will be laid with a fork to about 10-15cm in depth. If your soil is of poor quality you should add our special mix lawn topsoil to provide the best growing media for your new turf. Firm you soil by treading over it with your heels then rake and thread again and then a final rake to create a nice level and even surface for laying the turf.
How to measure and order your turf:
Order your turf by measuring your lawn and add an extra 5-10% to allow for cutting the turf into the lawn. If you plan to build a lawn around circular edges be sure to measure up to the corners of your lawn, additional turf can be cut and disposed of but this ensures a neat finish. Turf needs to be laid quickly to stop deteriorating while it is rolled up so choose a delivery date that ensures you can lay your new lawn straight away. We cut our turf on a daily basis so it'll be fresh when you get it.
How to lay your new lawn:
To begin laying your new lawn start with the straightest line in the garden and ensuring that the joints are staggered like brick work. Butt each end of the rolls together. After rolling out a roll of turf ensure that the roll has not stretched. This can later cause problems when the turf establishes it will shrink and leave gaps in the lawn.
Boards should be used to walk across the lawn to prevent footprints piercing the new lawn.
When finishing your new lawn try not to use small pieces to fit in the gaps. Use full rolls and cut inside the overlap.
How to care for your new lawn:
Newly laid turf must be watered within a half hour of installation. The turf should be soaked till the water has seeped through the turf and into the soil.
This should take place every day for the first two weeks until the roots have a good grip into the soil.
For optimal results watering should take place either in the morning time or evening time to save the sun evaporating the water.
During the winter-time the grass does not need as much water, nutrition or sunlight.